MacOS: Capture one "Basic profile" and "Extended profile" - and Loupedeck+ and Loupedeck Original.
Older (macOS) Capture One's Loupedeck profiles supported only shortcuts - now most of the functions are utilizing AppleScript API, which gives smoother user experience and variety of functions which were not accessible with shortcuts.
For Loupedeck CT and Live, Capture One integration has used two default profiles in the past: Capture One Basic and Capture One Extended. Main difference with the profiles is, that Capture One Basic profile uses "plugin actions" (from Capture One action group) and Capture One Extended is done solely with Custom Actions and Custom Adjustments - utilizing shortcuts which user could also edit.
Loupedeck+ and Loupedeck Original utilized plugin actions which have been automatically updated.
Capture One Basic profile (and Loupedeck+ / Loupedeck Original)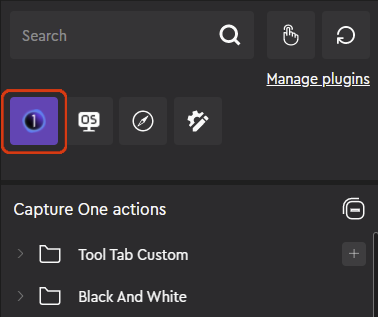 This profile is already using actions provided by Capture One plugin - these actions can be found from Capture One action tab (image on the right, red circle). All actions within the Capture One action tab have been updated automatically and no changes are required for the profile.
This also applies to Loupedeck+ and Loupedeck original users.
Note 1! There are a lot of new actions within the action panel which will broaden your ability to control Capture One - try them out and assign them to your own profile if needed (e.g. there are now adjustment resets available for dial press)!
Note 2! Make sure that you also update your keyboard shortcut file within Capture One to "Loupedeck Default". How to change the keyboard shortcut file.
Capture One Extended profile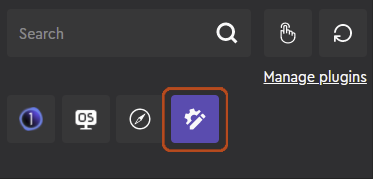 This profile is utilizing custom actions / adjustments which can be found from the custom action group (Image on the right, red circle). Custom actions of custom adjustments do not automatically update to plugin actions or plugin adjustments.
If you want to continue using the same mapping that this profile offers, you need to remap all the actions and adjustments from the Capture One action tab (top image). This ensures that you are using the actions utilizing AppleScript API to gain more speed and more fluent user experience (e.g. no lag on rotations etc).
There are some actions and adjustments which are not available in the Capture One action tab - because AppleScript API does not provide those functions - in that case you can still use existing Custom Actions or Custom Adjustments.
Note! If you continue using the Extended profile and it's custom actions / adjustments - remember that the custom actions / adjustments are synced with "Loupedeck_beta" keyboard shortcut file! In such case, Loupedeck UI will notify that you are not using a correct keyboard shortcut file - you should ignore the warning.
How to obtain the new default profile for Capture One?
If you have had previously installed Loupedeck software, then you will also have older profile(s) for Capture One. You can obtain the most recent default profile by creating a new default profile:
Open Profile drop-down menu
Move mouse pointer over Capture One to illuminate three-dot-menu (and click it)
Click on "Add profile" and select "Add new default profile"
Rename your new profile (in the example: Capture One Default)
PS. Make sure that you are using "Loupedeck Default" as the shortcut file in Capture One! How to change the shortcut file.