Streamlabs OBS Setup
Setting up Loupedeck LIVE and Loupedeck CT for streaming in Streamlabs OBS
To set up your Loupedeck LIVE or CT with Streamlabs OBS make sure that you have installed the latest versions of the Loupedeck and Streamlabs software.

When Streamlabs OBS is running and recognized the left side action panel will be populated by the Scenes, Sources and Audio items that can be assigned to the touchpads.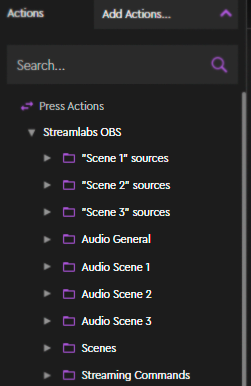 Use these items to:
Select any of the transmitted Scenes
Hide, play and show sources
Mute and unmute audio items
You will find the rest of the Streamlabs OBS actions under the "Streaming Commands" folder.
Note that running OBS Studio simultaneously as Streamlabs OBS may cause issues