Here's how these two softwares work together, starting from the first time you connect your device to your computer.
RAZER SYNAPSE 3
When you first connect your Razer Stream Controller, you will be prompted to download the Synapse 3 Software from Razer's website.
Registering for both the Razer ID and Loupedeck account is strongly recommended but optional.

After installing and launching the software, click on your Razer Stream Controller device on the Synapse 3 Dashboard.
Next you'll be able to see your device up close and decide on the profile you want to use. In order to customise your profiles, click the Launch Loupedeck button underneath the device picture.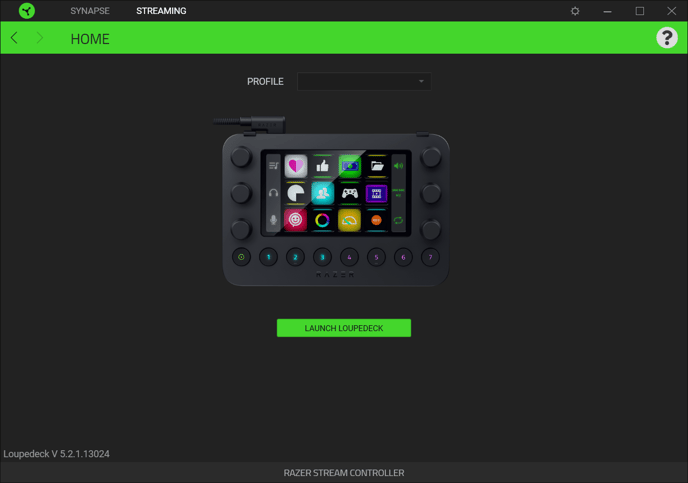 This will prompt you to install the Loupedeck software, if you do not have it installed before. If you already have the software installed, pressing this button will open up the Loupedeck software UI.
The device comes with pre-configured default profiles for different applications and use cases, which make the controller immediately usable. You can customise these profiles in the Loupedeck software.
---
What is the Dynamic mode and how to configure it?

When you first launch the Synapse 3 with the Razer Stream Controller, you may get this following notification in the software.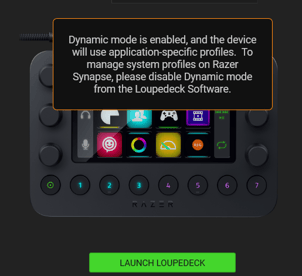 Picture from Synapse 3 UI
The dynamic mode determines if your Razer Stream Controller follows applications dynamically (when you change your focus from one application to another) or if it stays put in one selected profile.
If you wish to turn off the Dynamic Mode, you can do so in the Loupedeck software in the profile dropdown seen below. (circled with orange)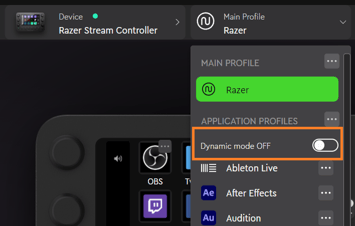 Loupedeck software UI
You can also add the dynamic mode on/off as an action to your profile, so you can control the state by a push of a button. Learn more here.
---
LOUPEDECK SOFTWARE UI
In this Loupedeck UI view you can start customising your device, profile and actions. You can add actions by drag & drop from the action panel on the right side of the UI to the device.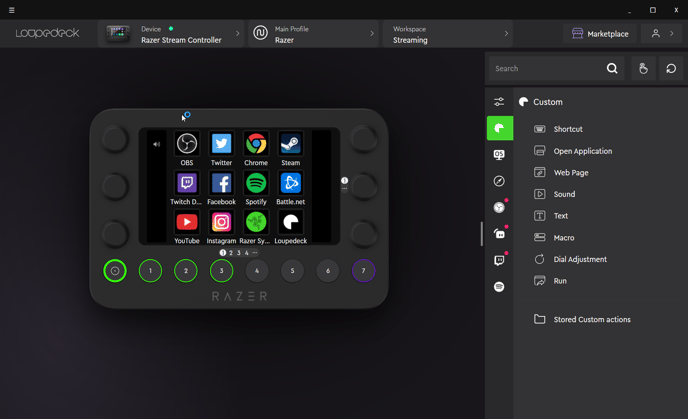 Spice up your actions with custom icons! Download icon packs from the Loupedeck Marketplace.