What Is A Main Profile?
When is a Main Profile used?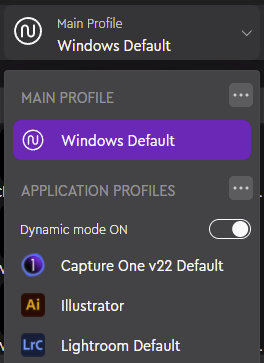 Main Profile is the profile which is in use, if no other application specific profile is activated.
Main profile (e.g., Windows Default) can be considered as a "general profile": lt is active as long as you are not using any software which is supported by an application profile - or unless you deliberately activate another profile (when Dynamic Mode is set "Off").
When Dynamic Mode is set "On", Loupedeck device will automatically activate an application profile at the same time that application is activated on your computer (e.g., Capture One, Illustrator or Lightroom Classic in this example picture).