Loupedeck plugin needs to be activated in Photoshop before Loupedeck can be used.

When Photoshop is fully running, open Plugins menu:
Click on "Loupedeck",
Select "Connect Loupedeck"

Loupedeck Info panel is opened.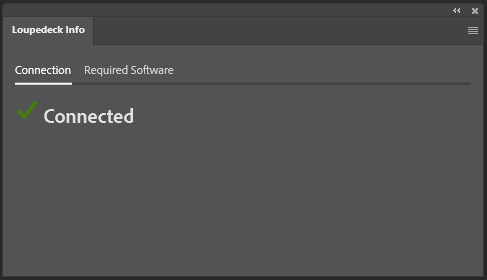 It will initially show "Disconnected" but will swiftly update to show that connection is established.
Note! Loupedeck Info panel needs to be opened each time Photoshop starts to create the connection. After the connection is made Loupedeck Info panel can be closed.
Tip! We suggest that Loupedeck Info panel is minimized and left on Photoshop's desktop - this way you don't need to open it from the plugins menu again (but you still need to maximize the Loupedeck Info panel to let it connect).
---
Issues
On some error cases Loupedeck is not functioning. Here are the most common issues.

Nothing happens when using a dial or pressing a button
Make sure, that Loupedeck Info panel is connected. Loupedeck Info panel needs to be opened each time Photoshop is used. After connection is made the panel can be minimized or closed.
Loupedeck category is not visible in Plugins menu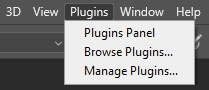 Installation process has partially failed. Photoshop UXP plugin is not correctly installed.
Try to reinstall (repair) Loupedeck installation. Follow the instructions one-by-one from here
If this does not work, then try to install Loupedeck plugin via Creative Cloud:
Search for Loupedeck plugin
You should see, that Loupedeck plugin is installed (even if it is not found in Photoshop), if so
Click on the three dots
Uninstall plugin
Reinstall it via Creative Cloud App.
If Loupedeck plugin is not shown as installed, and installing the plugin via Loupedeck installer did not help, try to install via Creative Cloud.
Plugins menu is not visible at all
Check that you have at least Photoshop v.22 (plugin menu did not exist in v.21 or prior)
If your Photoshop version is at least v.22 - please contact Adobe Support about missing Plugins menu.