Adding an application support so that Loupedeck will recognize the application when it is launched.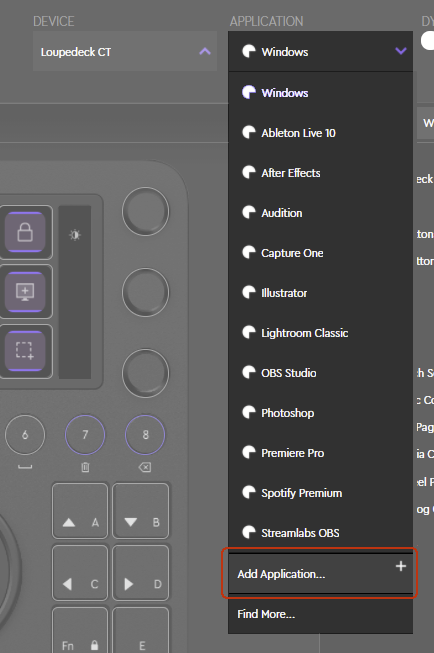 Loupedeck supports many applications by providing a specific developed plugin that integrates deep into the target application.
If an application does not have any ready-made support (within Loupedeck system), it can still be added to have it's own custom profile!
Locate Application drop-down menu from the top right of Loupedeck software
Click "Add Application..." from the bottom of the application drop-down menu (red circle)
This will open a new window on top of Loupedeck software. From this window you select which application you want to use with Loupedeck.
Select application from the "Select Application" drop-down menu.
NOTE! On Windows running applications are listed first followed by all installed applications.
"Listed Application Name" will be automatically filled. Click the name area to edit if needed (in some cases it will have a process name instead of a simple application name).
When adding an application to the Loupedeck system, it will automatically have one profile (later you can add more profiles if needed).
Give the profile a describing name e.g. "Excel Default".
Give automatically created profile a description what it is for.
Press "Save" to add application into the Loupedeck's supported application list!