You can control your Windows Audio Mixer by assigning a Volume Control Center action to a touch button
Due to a lot of discrepancies in our service we decided to remove the dynamic page funcionality for now. You can still however control your audio with a new devic application called Control Center.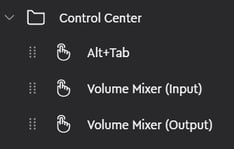 You can find the control center actions in Desktop/ Control Center folder in the actions panel (5.0 and higher) See picture 1 .
Picture 1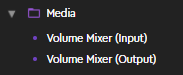 The same actions are available in the
Media or Control Center folder
in the Classic UI depending on the version (Versions 4.3.3 and previous) actions panel. See picture 2.
Picture 2

You can assign the control center to any available touch button. When you press the Volume Mixer Control Center action your device will display your windows mixer items in the touchbuttons and dials. Control Centers are identified with a orange color.

Picture 3: On the left:
Inputs
and on the right:
Outputs

Currently there are two different control centers for audio, input and output respectively.