Here's what to do if the OBS plugin cannot connect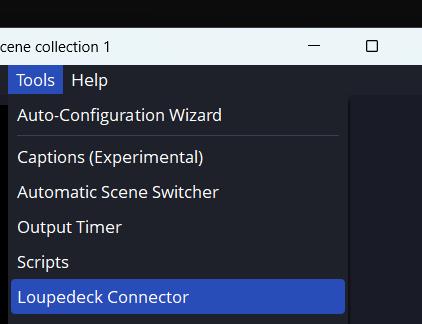 If your OBS plugin shows 'cannot connect to OBS', please check if you have Loupedeck Connector installed from the OBS application.
---
If you do not have the Loupedeck connector installed, please install it in the following way:
1. Download the appropriate file for your operating system :
Download the DLL file from here for Windows
Download the SO file from here for macOS (intel)
Download the file from here for macOS (M1)
macOS M1 users: Make sure you have installed the latest ARM version of OBS software. If you have previously installed the intel-version, updating OBS won't help and you will need to delete it manually and install the M1 version from OBS website.
2. Place it to OBS 64-bit plugin directory (default directories)

Windows : C:\Program Files\obs-studio\obs-plugins\64bit
macOS x86 (intel): /Library/Application\ Support/obs-studio/plugins/loupedeck-obs/bin/
macOS (M1): /Applications/OBS.app/Contents/PlugIns/
3. Restart OBS
If the problem persists despite Loupedeck connector being available, please contact support