Final Cut Pro
Tip!: With Loupedeck, you can adjust Color Wheels in Full Screen Mode.
The Global Color Wheel adjustments open on Loupedeck when you enter the Color Workspace so that you can start adjusting right away. A Color Wheels Effect is added automatically.

ROTATE DIALS OR WHEEL TO ADJUST
Hue
Brightness
Saturation
Temperature
Tint
Contrast
Mix Grade

On CT, Hue, Brightness and Saturaton can be adjusted with the 4 predefined color wheels for Master, Shadows, Midtones and Highlights that are available on the big wheel.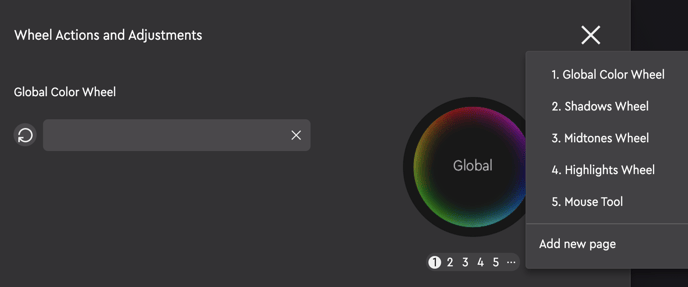 adjust Hue by swiping on the wheel
adjust Brightness by rotating the wheel
adjust Saturation by Fn + rotating the wheel
You can undo your changes by pressing the dial or double tap on the wheel or remove the whole effect by pressing the touch button "Remove FX".
NOTE!: On a CT color wheel page, remember to press Fn + horizontal swipe, otherwise your swiping will result in a color adjustment.
Tip!: One dial of each color wheel dial page is assigned with "10 Frames" Navigation so that you can quickly check applied adjustments throughout the whole clip, or copy and paste Attributes.