How can I use the 5.1. release with Loupedeck Original?
You can access the Classic UI from the 5.1 Loupedeck software UI
If you have multiple Loupedeck devices, you might prefer to have always the latest software version in use. Loupedeck Original console has not been migrated to the new UI view but you can access the Classic UI from the 5.1 software release UI.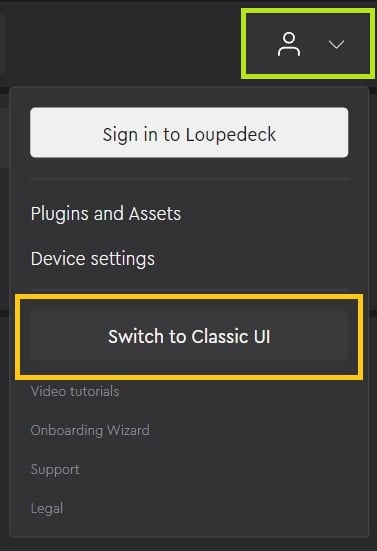 Click on the button on the upper right corner of the Loupedeck software (see picture on the left, circled with green) to open up the menu.
Then choose the "Switch to Classic UI" button from the menu dropdown (circled with yellow).
This action will bring you to the Classic UI, where you can access all the Loupedeck Original profiles and actions.