Loupedeck could not connect to Streamlabs Desktop
When you open Loupedeck app and select Streamlabs desktop from the Application list, there is a info message saying "Couldn't connect to Streamlabs" at the bottom.
Please check if OBS Studio is open at same time. Our software does not allow both OBS Studio and Streamlabs to run simultaneously as they use the same process underneath.

We recommend to close all streaming apps and then open Streamlabs by following these steps:
Close all streaming apps and Loupedeck app
Stop Loupedeck by clicking in the system tray, right-click on Loupedeck and select Stop Loupedeck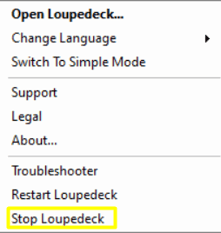 Then open Streamlabs Desktop
​Type down Loupedeck in the Start search menu and open it
Check the Loupedeck app and see if you still get the Couldn't connect to Streamlabs Desktop message