The default profile for MacOs includes most used actions to help you navigate around the operating system
This article goes through the basic actions that have been assigned to the default profile for Mac OS - users.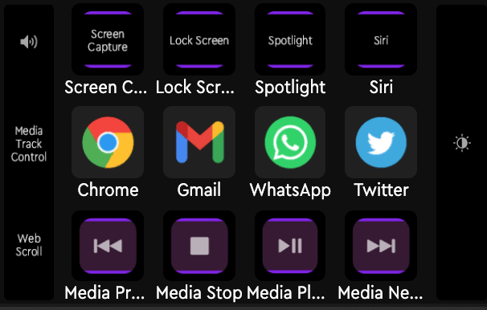 PIC 1: MAC OS DEFAULT PROFILE PAGE 1
Touch Buttons:
First Page
Screen Capture - Activates the screen capture app.
Lock Screen - Locks the screen behind a password.
Spotlight - Activates the
in the upper-right corner of the menu bar.
Siri - Launches the voice-controlled virtual assistant that is integrated into Apple's hardware.
Chrome - Opens the Chrome web browser
Gmail - Opens Gmail inbox on your web browser
Whatsapp - Opens Whatsapp on your web browser
Twitter - Opens Twitter on your web browser
Media actions - Play/Pause, Stop, Previous, Next
Alternatively: Calculator - Quick access to the calculator app, can also be used from the Loupedeck device (Touch Screen Page 3).
Second Page
Link to Loupedeck Knowledge Base
Link to Loupedeck YouTube
Time - Shows the time AM/PM.
Date - Shows the date month/day/year and weekday.
Spotify - Activates the Spotify App
Youtube - Link that opens Youtube on your web browser
Firefox - Prompts up Firefox - web browser
Reddit - Link that opens Reddit on your web browser
Finder - Use Finder feature on mac os
System Preferences - Opens the system preferences window
Minimize Window - Minimizes the active window.
Emoji - Quick access to the Emoji keyboard.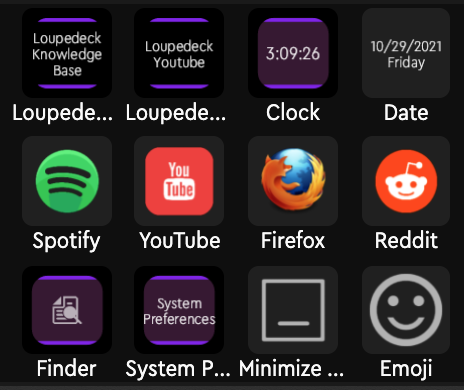 MAC OS DEFAULT PROFILE PAGE 2
Third Touch Screen Page - Calculator Actions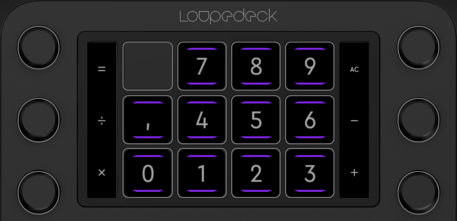 Numbers from 0 - 9 - linked into the calculator app
Decimal Comma - linked into the calculator app
Dial Pages
First Dial Page: System & Media Dials
Volume - Controls the universal volume,
Media Track Control - Controls the active media player, previous/next track.
Web Scroll - Scrolls up and down a webpage.
Brightness - Adjusts the screen brightness.
Second Dial Page: Calculator Actions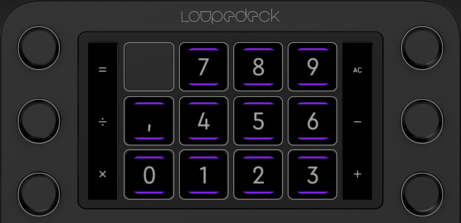 (!Press Actions down from upper left)
Equals =
Divide /
Multiply *
AC Clear all input
Minus -
Plus +

Wheel Pages (Only on CT)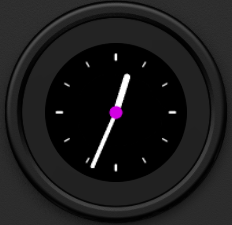 Analog Clock - Shows the current time in an old fashioned way.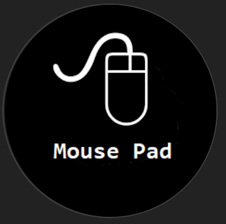 Mouse Pad - You can switch to mouse pad and use the wheel surface as a mouse.
Square Buttons (CT only)
Action changes when button (A - E) is pressed simultaniously with the Fn-button

A - ArrowUp
A+Fn - PageUp
B - ArrowDown
B+Fn - PageDown
C - ArrowLeft
C+Fn - Home
D - ArrowRight
D+Fn - End
E - Windows Actions
E +Fn - Windows Settings