Tutorial for setting up OBS with Loupedeck
Please note that OBS Studio needs to be installed prior to the Loupedeck software
To set the Loupedeck up with OBS please make sure that you have OBS Studio version 27.0 or newer and the Loupedeck 5.0 software.
If the UI shows a red dot on top of the OBS icon the plugin is not connected. In this case start OBS Studio. If OBS Studio is running but the red dot is still displayed, restart the Loupedeck software.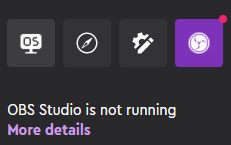 If the Loupedeck still is not connected go to OBS Studio -> Tools -> Websocket server settings and make sure that the enable authentication box is not ticked.

Having it unticked will not pose a risk to your connection as the Loupedeck is connected through the internal network and occupies the selected port.

Setting up OBS Studio Actions

In the OBS Studio action panel you can find two types of actions, the regular plugin commands and profile actions (scenes, mixer, sources). The profile actions are retrieved from OBS and therefore require that OBS is running for them to be configured.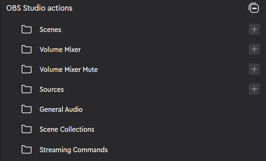 Setting up a scene/source/mixer item
To set up a scene press on the + next to the scenes folder. This will open up the Action Editor in the bottom right corner.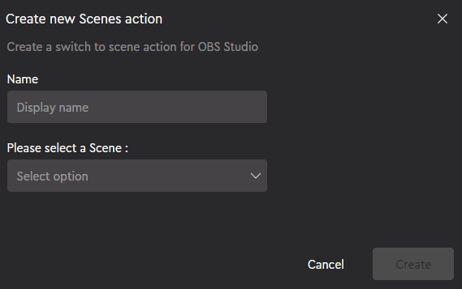 If the plugin is connected all of your OBS scenes will be displayed in the scene drop down. Select the scene and press on create. After this the saved scene will be under the scenes folder, from here you can drag it to the device.


Currently the name of the scene/source/mixer will be retrieved from OBS Studio and is not configurable, this is planned for a later update.