Renaming profile, adding a plugin into a profile, removing a plugin from a profile.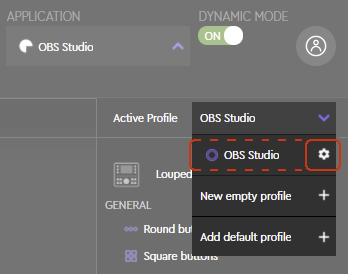 To edit a profile name, adding an extra plugin to the profile (e.g. Spotify Premium) or removing added plugins is all done from profile settings window.
To enter profile settings, open Active Profile drop-down menu and click the settings wheel behind the profile name.
Note! An extra plugin can be added also from the action panel (e.g. Spotify Premium), but it can only be removed from profile settings (if needed).
Profile Settings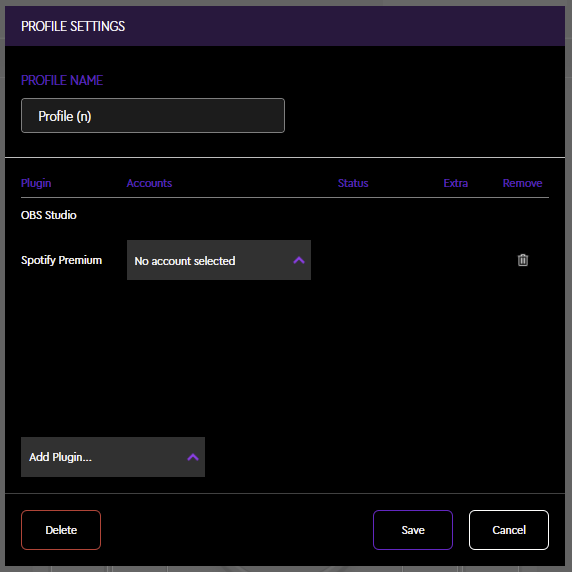 Profile name
The title of the profile - also shown on the Active Profile drop-down menu.
Note! It is adviced to enter a profile name which describes how it is used (e.g. If you use a profile for streaming Tetris, it should be named "Tetris Streaming" or similar).
Plugin
List of plugins that have been linked to this profile. The first plugin listed is the main application to which this profile was created in the first place.
Add Plugin.. (drop-down menu at the bottom)

All the applications you can link to a profile are listed under a drop-down menu. Clickin a plugin name will link it to the profile.
If the plugin already has (only) one account added, it will be automatically select the linked account for the plugin. Otherwise the account needs to be selected separately from the "Accounts" list (see above).
Adding a plugin also adds the corresponding actions (of that plugin) into the action panel as a separate action group.
Accounts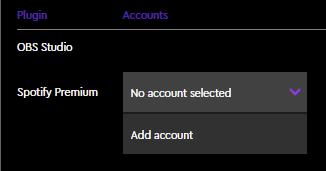 A drop-down list of accounts which are linked to the corresponding plugins (e.g. Spotify Premium).
If no account is linked you can add (link) your account by clickin "Add account".
Tip! Accounts can be added also via Loupedeck Setting.
Note! Not all plugins need a linked account. In such case there will be no drop-down menu available (e.g. OBS Studio in the image above).
When account linking has been done, the account will appear within this list (above "add account") and can be linked to this profile by selecting it from the list.
Status
Information of the plugin status (usually there is no status information and this is empty)
Extra
Extra features for the plugin (usually there is no extra features and this is empty).
Delete, Save & Cancel
Save: Save changes to the profile and exit the Profile Settings window.
Cancel: Cancel all changes to the profile and exit the Profile Settings window.
Delete: Delete the profile completely. A notification pop's up to verify deletion (answer "yes" to continue deleting) and exit the Profile Settings window.