To be able to use an application with Loupedeck device, the application needs to have a profile shown on the device. A profile is a container of assigned actions, custom icons and custom actions.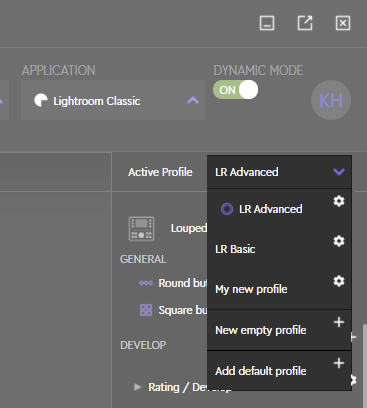 Loupedeck software also allows you to create multiple profiles for one application (e.g. Portrait Photo Profile, Wedding Photo Profile and so on).
For each profile, you can make your own mappings with existing actions or by making your own Custom Actions or Custom Adjustments - assign those as you would assign any other action or adjustment!
You can select the active profile from the profile drop-down menu. When the profile is selected, you can also edit it.
NOTE! If you select a profile for editing - remember that it is also activated for that particular software. If you want to use some other profile instead, reselect it from the profile drop-down menu.