Video Editing Software Plugins
"Run Script Error" messages popping up on older Premiere Pro versions
On version older than 15.0, Run Script Error messages shows constantly preventing use of Loupedeck. This is not an issue with later versions of Premiere Pro.
Using older version than 15.0 of Premiere Pro, unfortunately causes the following error message "undefined is not an object" and it is not possible to use Loupedeck at all.
If you get this message, we kindly ask you to update Premiere Pro to 2021 or 2022.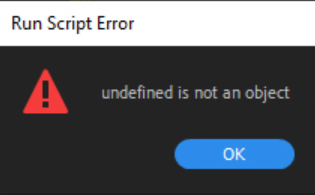 In case you want to continue working with an older Premiere Pro version, you will have to downgrade Loupedeck software to version 4.3.3.
Downloads of older Loupedeck software is available here.