This dynamic control center shows you how to utilize the Pan, Tilt and Zoom action on your Loupedeck CT or Live
PTZ Control is an advanced feature found in the 4K and Pro editions of vMix.
Workspace titled "PTZ Camera Controller" might look empty at the first glance, but the orange lined control center button takes you to your camera controls.
By pressing on the control center button, you are taken to a view, where you can see all your available inputs.
After choosing the camera input you want to control, you will see the following controls on your Loupedeck Console: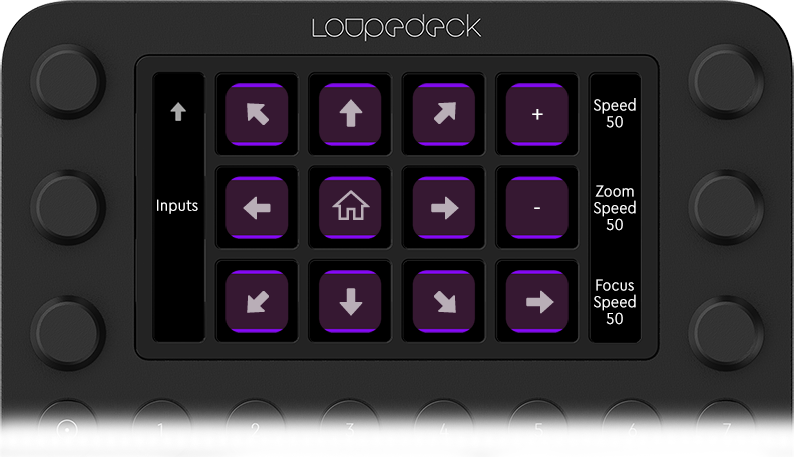 Picture 1: PTZ Control Center page 1
On the upper right corner + and - symbols are for zooming in and out of the input.
Tilt and pan the camera by using the arrow symbols
Pressing the house symbol in the middle will reset the actions.
Dial Actions:
Double-tapping on the upper left corner arrow screen will bring you back to the control center startup.
Tapping on Inputs will show you the list of all available inputs that you can control.
Dial Adjustments on the right side:
Speed: Control the speed of Camera Movement
Zoom Speed: Control the speed of the Zoom
Focus Speed: Speed of the Focus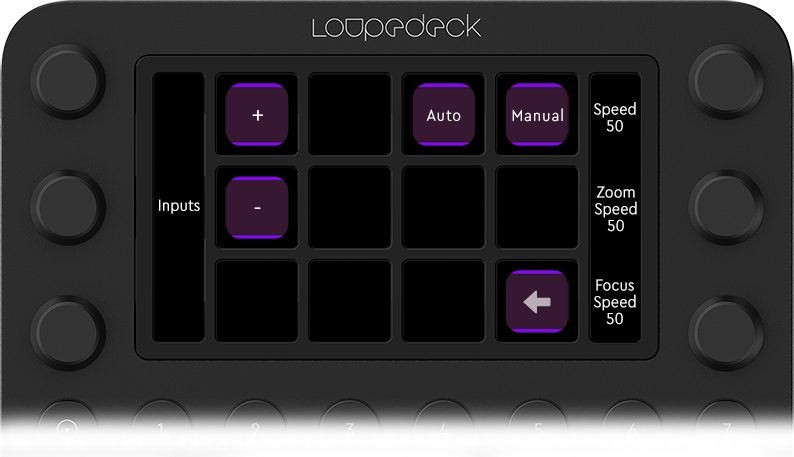 Picture 2: PTZ Control Center page 2
You can move between the pages by using the arrow symbol on the right lower corner.
Second page plus and minus symbols are for focusing actions: + for far and - for near
Auto: Automatic Focus (if your camera input supports this)
Manual: Manual Focus
This dynamic control center can be added to any page of your vMix profile to accompany your workflow. You can find this PZT Camera Controller in the vMix action folder called "Control Centers".
PTZ Widget for Loupedeck CT Wheel
A separate Wheel Widget is available for Loupedeck CT users.
In this widget you can freely adjust the direction of the camera movement on the surface of the wheel.