This On/Off Switch and Action determines if your Loupedeck device follows applications dynamically or stays put in one selected profile
To make Loupedeck better fit your workflow, you can select how the device reacts when you switch between applications (or when an application is started).
Dynamic Mode "On": Default setting which makes Loupedeck change the profile dynamically according to the active application. This behaviour is good for e.g. image editing.



Example: Lightroom is used and Loupedeck device is showing Lightroom profile -> An image is opened for further editing and Photoshop is launched: Loupedeck device follows the active application and changes automatically to Photoshop profile.




Dynamic Mode "Off": Selected profile is shown on the device at all times. This behaviour is good for e.g. streaming.



Example: Streamlabs is used and Loupedeck device is showing Streamlabs profile. A game is launched and Streamlabs profile is still shown on the device (instead of dynamically changing to the game profile).

If there are no supported applications available, the Dynamic Mode Switch is hidden.
---
In Loupedeck software version 5.1 and up the Dynamic Mode - feature can also be used as an action.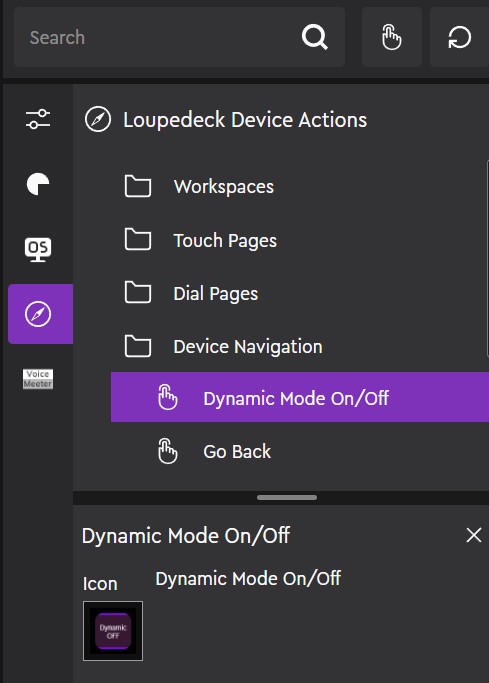 The Dynamic Mode On/Off - Press action can be found in the left side action panel under Navigation Actions / Device Navigation.

This is a simple toggle action that will turn the dynamic mode on and off.
As this is a press action, you can for example assign it to touch buttons or as a dial press action to complement some other action.