If you are running antivirus software on your PC and it blocks Loupedeck software from installing, please follow the troubleshooting tips below to complete the installation.
We have seen that Avira antivirus or F-Secure software can flag Loupedeck software during the installation process. This is a step-by-step guide to successfully complete Loupedeck software installation.
Add folder exception in the Antivirus software settings
Open the settings of the antivirus software
Search where to exclude files from scanning. You want to add this location C:\Program Files (x86)\Loupedeck\Loupedeck2\ in the exception list. You may find these two articles helpful
💡 Please remember to add the path to both System Scanner and Real-time protection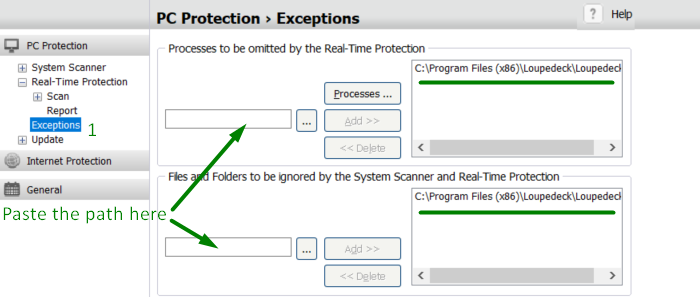 If this location is not available in the list (...), please paste it manually together with the backslash (as per the screenshot above)
C:\Program Files (x86)\Loupedeck\Loupedeck2\
Temporarily disable Antivirus software
You can do that from the settings of your Antivirus software. Once we complete Loupedeck software installation, you will enable the software again.
Download and install Loupedeck software
Even if you have already downloaded Loupedeck software, please do it again. You can always find the latest release in this link. Once you download the file, please run the installer.
Enable Antivirus software
Once Loupedeck is successfully installed, you can turn on the Antivirus software.
If you still experience any issues with installing Loupedeck software, please contact our support team for further assistance.