This update release includes a new exciting AI Assistant plugin, bug fixes, minor UI improvements and service enchancements
AI Assistant Plugin
Excited about ChatGPT and it's possibilities? Introducing the AI Assistant plugin, a revolutionary tool that can streamline your work flow even more!
With just the press of a button, you can now send readymade prompts to the AI to process.
Need something translated? No problem. Need to formulate a polite email? AI has your back.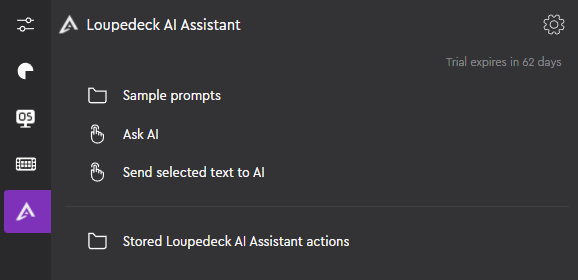 Read more about the AI Assistant plugin in this article
---
Bug Fixes
We are glad to announce that we have now fixed the few unfortunate bugs that made into 5.6, for example the issue with Arrow Keys, that made the use of arrow keys in many application plugins and profiles difficult.
---
UI Improvements
We have added a new " Activate menu bar" action into the OS-actions, so that you can easily make macros in software that have a menu bar on the top of the screen but lack a ribbon system to access the actions.
Read more about the UI improvements, bug fixes and content of the release...