If this error message appears in Loupedeck app and it says that a specific plugin was not loaded because it had malfunctioned, please follow the instructions in this article to resolve it.

We are aware that some Loupedeck users experience this issue with our 5.x software version. It will be addressed in our future software release and in the meantime, we recommend this workaround:
The affected plugin file needs to be deleted and then Loupedeck restart will fix the issue.
Note the name of the plugin that had malfunctioned. In the example screenshot above, it was StreamlabsPlugin.dll
Press Win+R on your keyboard
Paste the following line in the "Run" dialog:

cmd /c del %LocalAppData%\Loupedeck\Logs\plugin_crashes\StreamlabsPlugin.dll

Click "OK"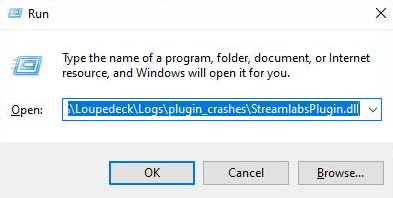 If you experience this issue with another plugin, for example the ObsStudioPlugin.dll, please follow the workaround, but replace the StreamlabsPlugin.dll at the end of the command:
cmd /c del %LocalAppData%\Loupedeck\Logs\plugin_crashes\StreamlabsPlugin.dll
and enter this command instead:
cmd /c del %LocalAppData%\Loupedeck\Logs\plugin_crashes\ObsStudioPlugin.dll