Learn how to use the Round and Square Buttons on Loupedeck CT
Round and Square buttons are referred to as General Elements, the action set for each does not change when a workspace is changed.
All of the Round and most of the Square Buttons can be customized. The Square which cannot be customized are home, enter, keyboard, and Fn.
You can select a second action for each Button by pressing Fn simultaneously with the button.
Pressing Fn, illuminates all Buttons where a second action is set, any Buttons with no assigned action remain unlit.
TIP 1! We recommend assigning workspaces to round buttons in your workflow order – that way you can easily go forward step-by-step.
TIP 2! We recommend assigning very common actions to A-E buttons. E.g. Navigation; and selecting to buttons from A-D and Zoom In / Out to button E.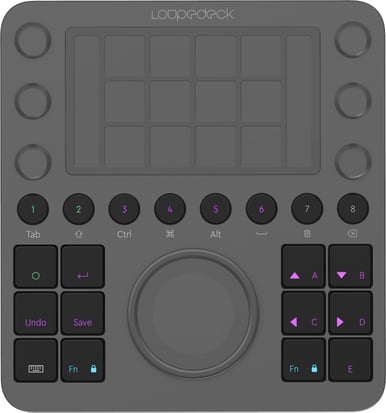 Popular actions
Some actions are fixed for all applications (e.g. Enter, ESC, Save).
Enter & ESC (FN+Enter) are fixed and cannot be customized as they are needed to apply or cancel many different functions. Enter / ESC .
Undo & Redo (FN+Redo) are assigned to the same button, as are Save & Save As (FN+Save). Both buttons are customizable.
TIP 3! We recommend assigning your most-used export presets to Save and FN + Save – no need to create an export workspace for that.
TIP 4! If you do not require Redo-function, we recommend assigning "reset all" or "undo all" to FN + Undo