Quick guide for setting up Spotify with Loupedeck
Requirement for use: You need to have an active Spotify Premium - account.
1. Log into your Loupedeck Account via Loupedeck Software
2. Enable the Spotify plugin from the "manage plugins" options from the upper right corner so that it can be seen on the action row.

3. Log into your Spotify account through the Loupedeck Software.
Choose the Spotify Icon from the Action Row

Press "Add".
You will see Account settings pop-up like in the picture below.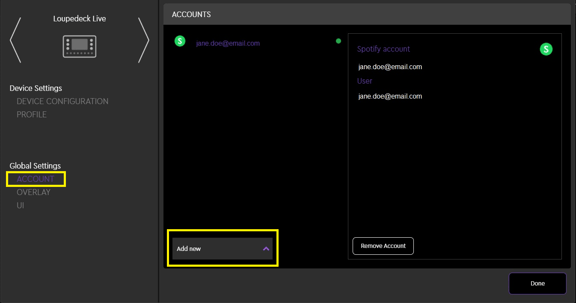 Click "Add new" dropdown menu and select "Spotify". You will be redirected to a Spotify's web-page to log in (linking will be done automatically when you log in on the webpage).
All done! Now you can start using the Spotify actions on your Loupedeck device. Loupedeck system allows you to link Spotify controls into any plugin you might be using.
.
Note: In some cases browser shows an error message - account is linked
nevertheless and you can close your web browser.