Main Profile is your default operating system profile which is in use, unless some other profile is selected or an supported application is started.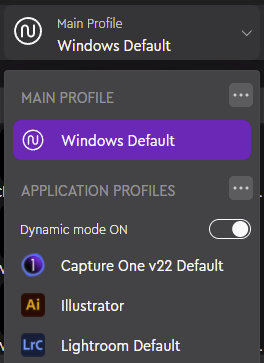 Main profile (e.g., Windows Default) can be considered as a "general profile": lt is active as long as you are not using any software which is supported by an application profile - or unless you deliberately activate another profile (when Dynamic Mode is set "Off").
When Dynamic Mode is set "On", Loupedeck device will automatically activate an application profile at the same time that application is activated on your computer (e.g., Capture One, Illustrator or Lightroom Classic in this example picture).
The fun comes in when you start customizing the Main Profile to suit your needs! Add all the desktop, custom and universal plugin actions you want to create the perfect control set.
---
Let's go through all the action types you can add into your Main Profile.
DESKTOP ACTIONS
You can find all the default profile related desktop actions on the right side action menu by clicking on the OS-symbol.
Desktop actions include a large variety of shortcut and productivity actions such as a control center for the Volume Mixer and also widgets like Stop Watch.
---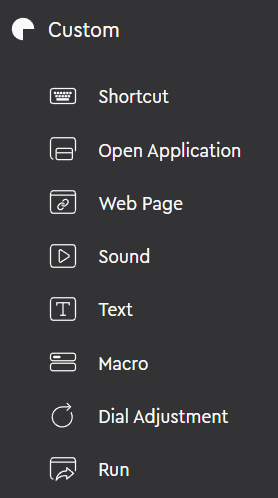 CUSTOM ACTIONS
You can also create custom actions like macros, sound actions and open application - actions from the Custom-tab on the action panel.
---
UNIVERSAL PLUGIN ACTIONS
With the help of plugins, you can add certain type of software actions into your system profile. Some of the supported plugins are Spotify, MIDI, Philips Hue, Streamlabs and Twitch - and there are many more to come. You can find all available plugins from the Loupedeck marketplace.
You can control which plugins you are using in your profile by clicking on the "Hide and Show Plugins" - tab on the action panel.




Press on the eye - icon to show or to hide the icon. The icon will presents the state of the plugin.